Welcome to the Fernmania Web Site
We are proud to be major suppliers and exporters of the beautiful Tasmanian Dicksonia antarctica tree ferns or 'Tasmanian tree ferns' to clients in Australia and for export around the world.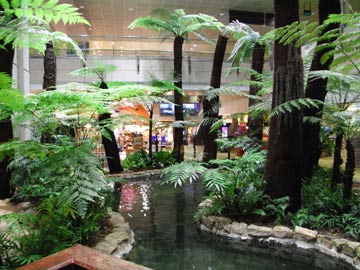 Fernmania Dicksonia antarctica Singapore Airport
Owned and operated in Tasmania Australia by Bert and Ruth Van den Berg, Fernmania is a family business and has been operating for over 30 years.
Fernmania is the largest tree fern harvesting operation in Tasmania.
After extensive study of the effect of harvesting and tree fern availability by Tasmanian Governent agencies we are fully licensed to harvest tree ferns in well defined areas in Tasmania under controlled conditions. Fernmania adheres strictly to those conditions. See Responsible Harvesting.
Tree ferns are exported from Australia to many countries including, North America, Holland, France, England, Ireland, Italy, Germany, Singapore, South Korea and Taiwan.
We are well positioned to supply these spectacular tree ferns which are the most prized plant on earth for many people. They do well in locations even where some frost may occur and the use of tree ferns in shady areas creates an interesting and attractive atmosphere.
If you have a nursery, we may be able to put you in touch with an agent, distributor or importer of our treeferns.
Enquiries from agents, distributors or importers are welcome.
Use our web form to contact us.